Gare Angelduerf - Virschlag




Gare Ingeldorf - Proposition




Bahnhof Ingeldorf - Vorschlag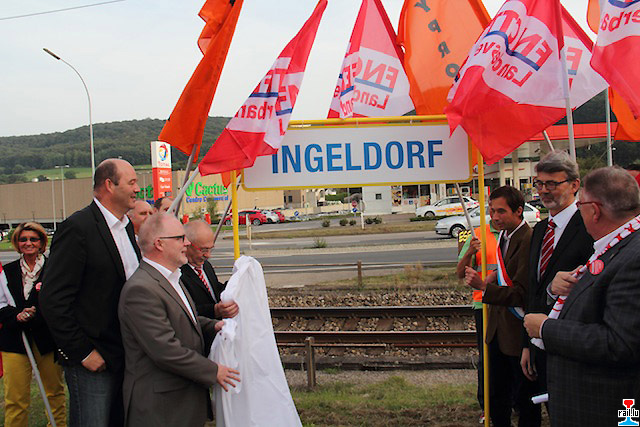 Inauguration symbolique d'une nouvelle halte ferroviaire à Ingeldorf, vis-à-vis du Centre commercial Cactus. (Photo: 25.09.2013 Mercatoris Nico)
Action pour soutenir la revaloration de la ligne ferroviaire Ettelbruck - Diekirch.

Liens / Links
The Railway Stations of Luxembourg
- Les gares luxembourgeoises -
Die Bahnhöfe Luxemburgs
Any information or picture completing these pages is welcome! For more information just send us an e-mail.
Toute information ou photo pouvant compléter ces pages est la bienvenue! Pour des informations supplémentaires, veuillez nous envoyer simplement un e-mail.
Jede Information oder jedes Foto, welche(s) diese Seiten vervollständigen, ist herzlich willkommen! Für mehr Informationen, senden Sie uns einfach eine E-mail.
| | | |
| --- | --- | --- |
| | | Created by / Créé par / Copyright: jmo |