| | | |
| --- | --- | --- |
| T.V.L. | TVL - Motrice No 26 | |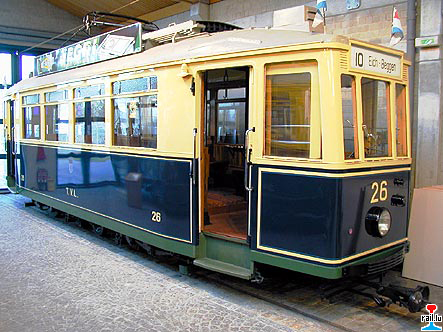 Motrice TVL No 26 au Musée des Tramways et de Bus (Photo: 16.11.2000 jmo)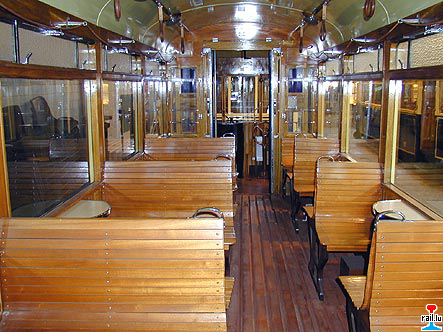 L'intérieur de la motrice TVL No 26 (Photo: 16.11.2000 jmo)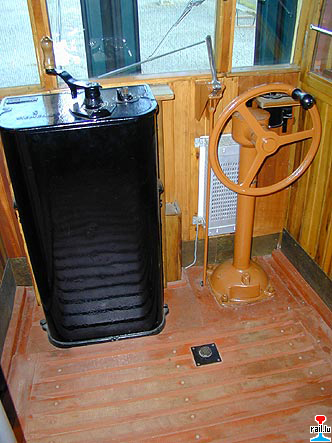 Poste de conduite de la motrice TVL No 26 (Photo: 16.11.2000 jmo)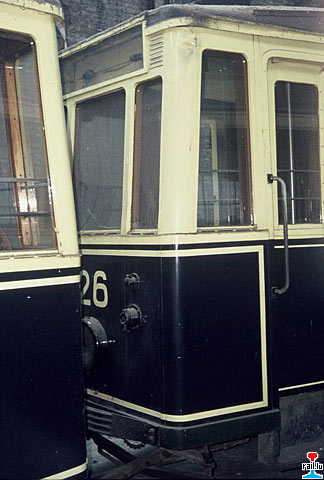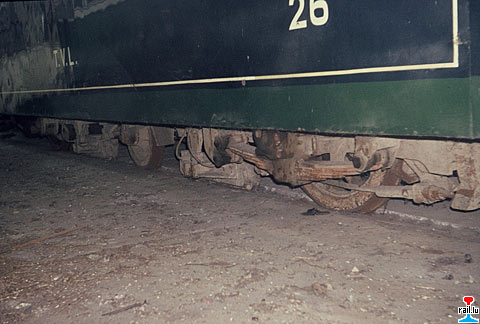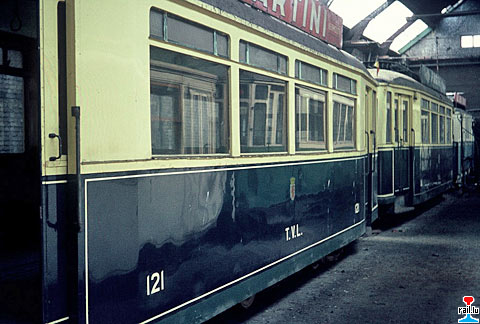 Triebwagen TVL 26 und TVL Beiwagen No 121 im SNCV - Depot Haacht / Belgien (Photos: 5.1972 Edmond Goergen)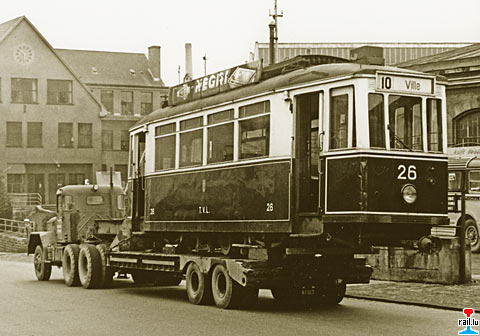 Motrice TVL No 26 en route pour la Belgique (Photo: 17.12.1964, Théo Mey; Copyright: Photothèque de la Ville de Luxembourg)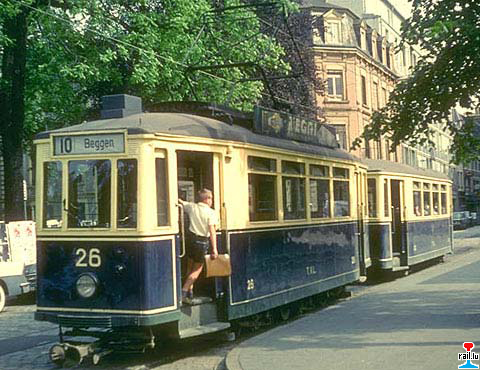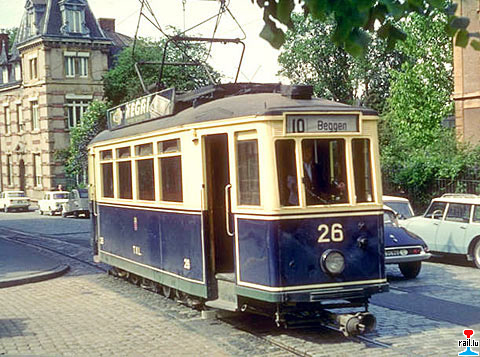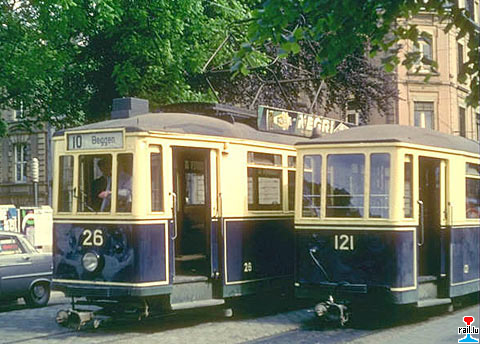 Motrice tramways TVL 26 et remorque TVL No 121 à Luxembourg-Ville (Photos: 4.6.1964 Evert Heusinkveld)

---

Motor coach 26 and trailer 121 were built in the service's workshops at Limpertsberg. The original coach and trailer are displayed at the Tramway and Bus Museum of the City of Luxembourg Public Tansportation Service. The photo exhibition shows various shots of cars in the process of being built. The construction of whole tramways was decided on during the 1920's and 1930's: on one hand, to reduce unemployment, which was quite significant at the time and, on the other, to reduce the communal budget deficit. When the tramway system was dismantled in Luxembourg, this motor coach and trailer were made available to the tramway museum de Schepdaal in Brussels due to a lack of space, while they were waiting to be brought back to Luxembourg again.
---
La motrice 26 et la remorque 121 ont été construites dans les ateliers du Service à Limpertsberg. Les véhicules originaux sont exposés au Musée des Tramways et des Bus de la Ville de Luxembourg. L'exposition de photos montre diverses vues de voitures en cours de construction. La construction de tramways entiers a été décidée dans les années 1920 et 1930 pour panier dune part au chômage assez important à cette époque et pour réduire d'autre part un peu le déficit du Budget communal. Lors du démantèlement du système de tramways à Luxembourg, et faute de place, cette motrice et cette remorque ont été mises à disposition du musée de tramways de Schepdaal à Bruxelles, en attendant de pouvoir les ramener de nouveau à Luxembourg.
---
Der Triebwagen 26 and der Beiwagen 121 sind in den Werkstätten der Verkehrsbetriebe in Limpertsberg gebaut worden. Im Strassenbahn- und Busmuseum der Verkehrsbetriebe der Stadt Luxemburg sind die Originalfahrzeugen zu sehen. Die Fotoausstellung zeigt verschiedene Ansichten der Fahrzeuge während ihres Baues. Der Bau von kompletten Straßenbahnen wurde in den zwanziger and dreißiger Jahren beschlossen, um einerseits die zu dieser Zeit hohe Arbeitslosigkeit abzubauen and um andererseits ein wenig das Defizit der städtischen Kassen zu reduzieren. Nach der Einstellung des Straßenbahnsystems in Luxemburg and wegen Platzmangels dort wurde dieser Triebwagen mit Beiwagen dem Straßenbahnmuseum Schepdaal in Brüssel zur Verfügung gestellt, um sie später wieder nach Luxembourg zurückzuholen.

The technical features / Les caractéristiques techniques / Die technischen Daten:
| | | | |
| --- | --- | --- | --- |
| Built by | Constructeur | Hersteller | Ateliers Municipaux Limpertsberg TVL / Luxembourg |
| Chassis | Châssis | Fahrgestell | S.L.M. Winterthur |
| Construction date | Année de construction | Baujahr | 1938 |
| Tare weight: | Poids à vide | Leergewicht | 14.000 kg |
| Number of axles | Nombre d'essieux | Anzahl der Achsen | 3 |
| Engines | Moteurs | Motoren | 2 A.C.E.C. MTV 525, 550 Volt, 50 kW, 630 t/min |
| Length | Longueur | Länge | 10.680 mm |
| Width | Largeur | Breite | 2.100 mm |
| Height | Hauteur | Höhe | 3.315 mm |
| Number of seats | Places assises | Sitzplätze | 22 |
| Standing room | Places debout | Stehplätze | 45 |
| Decommissioned | Mise hors service | Außerbetriebnahme | 5.9.1964 |
Bibliographie
Titel - Titre

Author - Auteur - Autor

Date

Edition - Verlag

Contents - Contenu - Inhalt

Pages- Seiten

ISBN

Tramway Municipaux
De Stater Tram 1875-1993
Hoffmann Jean-Paul,
Dhur Raymond, Clesse René, Balthasar Marcel
1993
259

Les tramways de la Ville de Luxembourg
5e volume AMFL
156

Usine et Tramwas Electriques de la Ville de Luxembourg
1908-1933
Thiry Jules
1933
Reprint GAR

Historique
Usine électrique
Tramways électriques
Autobus
Chemin de fer vicinal
Organisation - Personnel

63
Any information or picture completing these pages is welcome! For more information just send us an e-mail.
Toute information ou photo pouvant compléter ces pages est la bienvenue! Pour des informations supplémentaires, veuillez nous envoyer simplement un e-mail.
Jede Information oder jedes Foto, welche(s) diese Seiten vervollständigen, ist herzlich willkommen! Für mehr Informationen, senden Sie uns einfach ein e-mail.
| | | |
| --- | --- | --- |
| | | Created by / Créé par / Copyright: jmo |